Quoted Text
---
Hello - this will be my 1st campaign and I'm hoping this will help me get motivated to finish this project. Back in Sept. of 2018, I purchased Lindberg's Shrimp Boat to try to convert it to look like Forest Gump's "Jenny" shrimp boat. I have every thing primed but put it aside up until now. Time to get working!
---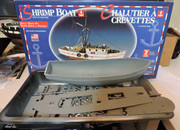 Hi Robert,
I built this little shrimp boat as a kid (1970s Lindberg release as the "Fishing Trawler Aquarius"). I made a real mess of it, so I look forward to watching you bring it to life!
Have you considered switching to another photo hosting provider for this new project? There are quite a few good ones - I happen to use
Imgur
. Imgur is free, easy to use, and won't require you to post these microscopic images. We want be able to SEE your beautiful work!